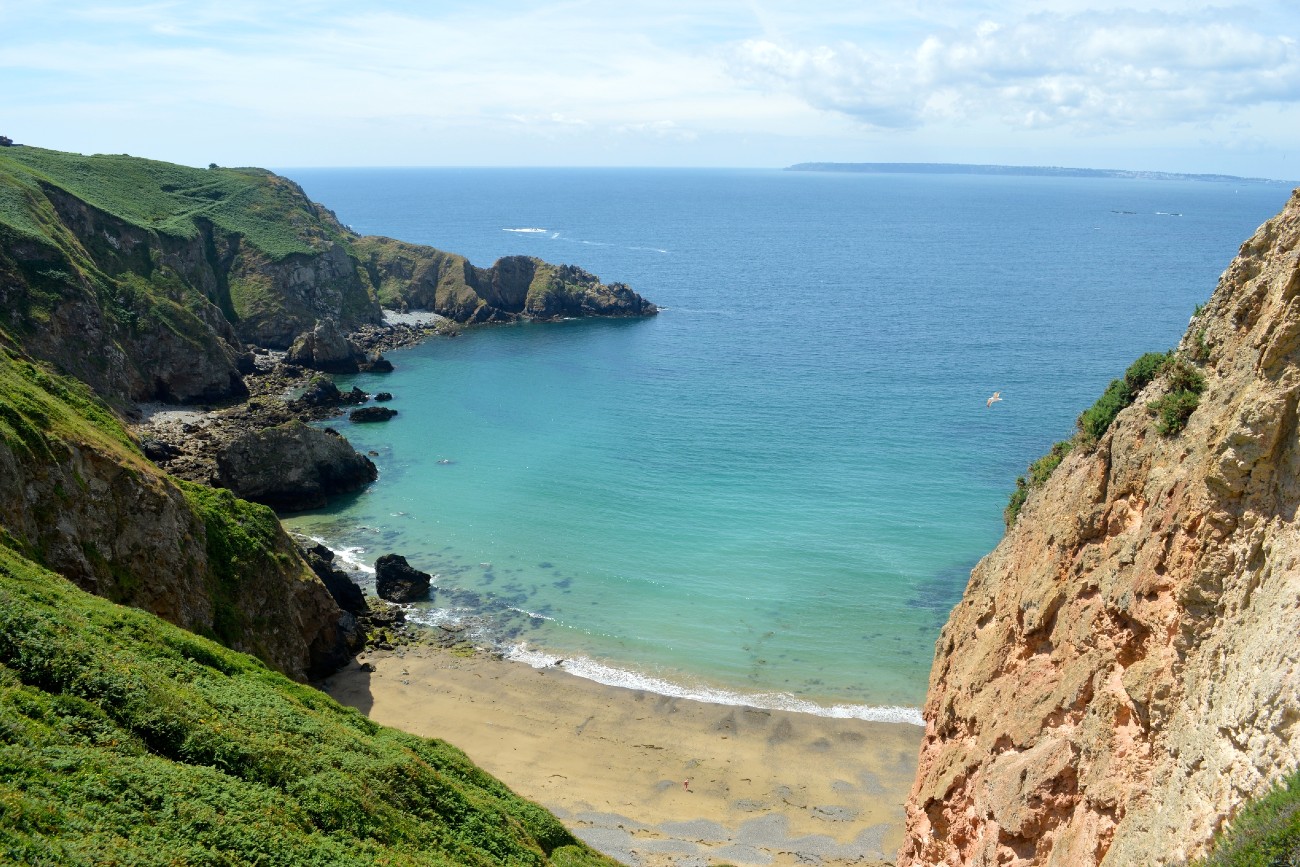 Recently, the island of Sark has been in the news, after Swen Lorenz, a German businessman who has lived on it since 2004, alarmed to see how the population of the place decreased dramatically, took the initiative to start a project by which he named "Sark Society" in order to attract people to the place and thus appease the phenomenon of depopulation.
Since the pandemic caused by the Covid-19 virus broke out, many people showed interest in the island of Sark not only for being a quiet, serene place, with lots of nature, landscapes and dreamy views, among so many qualities, but also it has also remained free of the disease.
The current population of Sark is about 500 inhabitants and with this initiative it is intended to bring that number to about 1,000 inhabitants.
Sark is an ideal site for those who telecommute, have online businesses or who work in the world of finance, since it has high-speed internet. Sark's main industry is tourism.
A Dependency of the British Crown
Pay a feudal lease and maintain a civilian militia. Those two are the conditions that the British Crown imposed on a nobleman from the neighbouring island of Jersey in 1565 to be able to rule Sark independently and for all eternity.
Today, the 3.4-square-mile island is part of the Crown of the British Channel Isles, is self-governing and has its own Legislative, Judicial and Executive powers. It is also part of the British Commonwealth and its Head of State is Elizabeth II, but not as Queen of England, but as Duchess of Normandy.
Despite the 1565 treaty, the right to rule the island does not depend on a family, but on the possession of a property. In fact, if there is no heir, the special status would not lose validity, but rather the property and the right to rule the island would be granted to a new owner.
Special Conditions for its Residents
Thanks to its special status, the inhabitants of the island of Sark can enjoy a series of tax conditions that make it unique.
For example, on the island of Sark there is no value added tax, making it a favourite destination for those who want to buy electronic products, jewellery or watches at a cheaper price.
And, speaking of taxes, on the island there is no tax on income, on capital gains, on companies or on inheritance.
The annual income statement is very simple. It is a single page where taxpayers only have to fill in two boxes, thanks to the fact that Sark does not have politicians or a bureaucratic apparatus as such. In fact, members of parliament are not paid and their work is rather of an honorary nature.
The island of Sark is very 'favourable' to entrepreneurship. Employers and employees can sign the contract they want or the one that suits them best, thanks to the fact that there is no labour law. In the case of those who provide financial services, they are regulated by the competent supervisory authority of the neighbouring island of Guernsey.
Real Estate at Very Attractive Prices
Lorenz's initiative has the support of Christopher Beaumont, the 23rd Lord of the island, holder of the fiefdom and noble head of the Sark Estates.
The German businessman has not only provided information on what to do to emigrate to the island, but also provides data on the real estate issue, taking into consideration that of the 400 properties that exist in Sark, about 150 are uninhabited.
The moment could be ideal for those who want a "new life", taking into account that since 2008 prices on the island have seen a 50 percent drop and that soon mortgages, which until now have been illegal in Sark, will be a reality for those who wish to invest.
The average age of the inhabitants of Sark is 60 years, a figure that they seek to decrease with this idea of attracting new inhabitants to the island.
Immigrate to Sark
Until December 31, 2020, citizens of the European Union, the European Economic Area and Switzerland who bought or rented a home on Sark were considered to be residents of the island. Now, with the entry into force of Brexit, you can stay on the island for five years. After that time has elapsed, and thanks to the agreements with Great Britain, you can apply for permanent residence and even citizenship of The Channel Islands.
Being a citizen of the islands is identical to being a citizen of Great Britain. The difference lies in the tax issue, since The Channel Islands have their own tax regime.
Housing-Based Taxes
In Sark, taxes are based on the house that is occupied and its size. For example, a person who rents a one-bedroom apartment and lives there alone will end up paying less than £1500 a year, but on the other hand if the person decides to live in a four bedroom house, the tax to pay is around £4,000 a year.
However, a family of a father, mother and two children, living in a house for a group of four people must pay about £6,000 per year in taxes, since the spouses and dependent children must each pay £450 per year.
It is important to note that the tax return does not provide information about income or wealth, in exchange for paying an additional flat tax.
Taxes could be reduced if the person or family stays on the island for more than 180 days and up to 270 days. This is an issue that has been under discussion, given the fact that there are residents of Sark who do not live there, so the possibility of requiring that they remain on the island a minimum time of 90 days each year and being able to prove it, as well as stay a longer time during their fifth year of residence in order to obtain citizenship.
How do you get to Sark?
The only means of transport that exists to reach the island of Sark from neighbouring Guernsey is a ferry that takes about 45 minutes on the way, although it is planned to incorporate a faster one that makes the journey in 30 minutes.
During the summer there are more itineraries between the two islands, this being significantly reduced during the winter. In bad weather, the service could be cancelled. Also during the summer there are services from Jersey and from France.
The shipping activity between Sark and Guernsey is quite intense, because the inhabitants of the first island take advantage of the infrastructure of the second to do their personal errands.
To travel to London from Sark you must use the Guernsey airport. It offers several flights a day between the island and London Gatwick Airport. To travel to any other destination in Europe, connections are usually sporadic, so the capital of England should always be used as a connection to other cities on the continent.
At present, it is awaiting the granting of the necessary permission to be able to begin air operations between Sark, Guernsey and London using helicopters as a means of transport. The infrastructure is ready for this purpose.
What to do in Sark
Not only because of its size, because of the fact that cars are prohibited, and because there are only 500 inhabitants, Sark is a dream place thanks to its beautiful coasts, its natural landscapes and the kindness of those who live on the island.
For those who wish to arrive in their own boats, there are moorings on both sides of the island for those who want to anchor on its beaches and enjoy its waters.
If you want to know the island for a few days, there are multiple lodging options. There are the hostels that offer bed and breakfast, as well as those that have a more extensive kitchen and include lunch and dinner on their menu. Sark also has some hotels with all the comforts for those who want something a little more spacious.
If you are as adventurous as me, there is also the option that you can sleep enjoying nature and the stars, thanks to the two places that the island offers to camp, so you can go with your tent and your sleeping bag.
Those who want to pamper their palate will also find in Sark excellent options, since there are several restaurants that offer the best of local, British and European cuisine, especially that based on seafood, as well as dishes made with locally produced food.
Walking in Sark is a pleasure, even more so due to the fact that cars are prohibited. That makes the place ideal to get to know on foot, thanks to a network of lanes and trails. You can also rent a bicycle or hire a carriage ride that includes an explanation by the coachman of the sites that you will get to know.
You can also discover the island by sea, thanks to its more than 40 miles of coastline to enjoy its waters with a dip or by hiring the services of a ride in a small boat that will make a tour of the island and its most important hidden places. The option of renting a kayak and discovering those same sites that Sark hides is another alternative for those looking for a bit of adventure.
Keep your eyes wide opened while you go in the boat or kayak, as it is very likely that you will be accompanied on the tour by some of the island's typical marine species, such as a pod of dolphins.
And speaking of marine life, the island of Sark is one of the best places to practice scuba diving. Its waters are home to the most magical and colourful creatures that you can find in The Channel Islands.
The People of Sark
Because there are so few, the population of Sark is very supportive. They work together to help each other. Volunteering is a way of life and that's how, for example, local firefighters work; they all do it for a matter of solidarity and vocation.
If you are looking for a bit of privacy, perhaps the island is not your best alternative, since everyone knows each other. It is true that many properties are separated from each other and this could give you a bit of peace, but it is something you should consider.
The best time of year to visit Sark is spring and summer, which is when plants are in bloom and is the best time to see places like The Scenery Gardens, one of the most beautiful flower and plant sites on The Channel Islands. There you can also discover a little more about its history and those who have served as Lord of the island.
Typical recreational and cultural activities are also present. At the beginning of July the Sark Folk Festival or Sarkfest is celebrated, an event where music, food and the sale of local crafts abound.
In mid-July, the spirit of solidarity among the citizens of Sark comes out with the annual sheeps race, an event that raises funds for Sark's Professor Saint Medical Fund, which subsidizes prescriptions for islanders.
But, without a doubt, the best natural spectacle that Sark has occurs every day of the year, on clear nights. As there are no cars on the island and they are not affected by pollution, and not even by the lighting of its tracks, since there are no lamp posts, being able to admire the starry nights in this place is one of the most fascinating moments of the day.
For this reason and for many more that you will have to discover, Sark can be your next destination not only to vacation but also to live.
Learn more about Sark! Read the following article: Sark – An Island Under The Stars