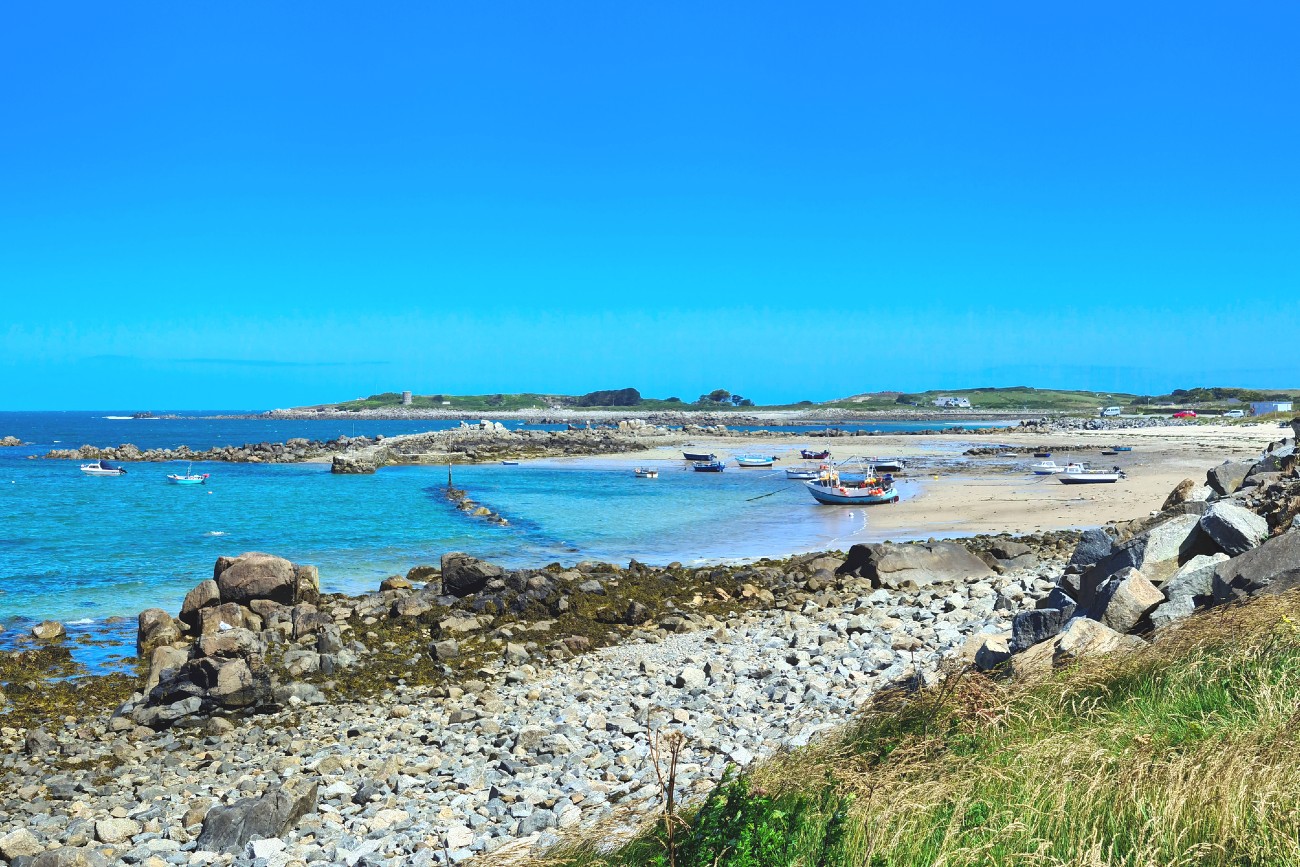 The north coast of Guernsey is a place of long, sandy beaches and sweeping coastline. One of the more interesting settlements in this region is the village of L'Islet. This thriving settlement spans the border between the parishes of Vale and St. Sampson, although it is largely situated within the former.
Vale is one of the largest parishes in Guernsey, covering almost 9 square kilometres, over two non-contiguous areas. Until 1806, Vale covered an area of mainland Guernsey, as well as the tidal island of Le Clos du Valle, separated from the mainland by the narrow channel of Le Braye du Valle. Le Braye was drained by the British Government for defensive purposes, with Vale parish being granted sections of the reclaimed land, which it retains to this day.
Much of the village of L'Islet hugs the Vale coastline, being blessed with glorious views out across the clear waters towards Amarreurs Harbour. The village caters well to its visitors, offering a range of local amenities, as well as several points of interest.
Coastal Walks
L'Islet is very much a seaside village, situated in close proximity to two lovely beaches. Neither of them are as popular or well-known as some of Guernsey's other beaches, however this certainly works in their favour, as they remain quiet and tranquil even when the weather is pleasant. I enjoy walking on both of them as they feature long stretches of white sand, as well as rocky areas.
As a result, they are good destinations for family visits, as you can spread out a towel and soak up the sun, while letting young ones explore the rockpools or play in the sea. The beaches sit within a large, enclosed bay, meaning the waters are generally safe and shallow. For this reason, the northern beach is often home to a large collection of small boats, which bob languidly on their moorings.
Behind L'Islet's beaches, Guernsey's northern coastpath winds its way through gorse bushes and heather, following a narrow strip of natural land that separates the village from the sea. From here, you can take a stroll to the nearby beauty spot of Rousse Point, or follow the path in the opposite direction to reach the wonderful L'Ancresse Common.
If you venture on the latter journey, consider stopping off at Vale Pond, which lies on the outskirts of L'Islet. This small body of water is the last remaining remnant of Le Braye du Valle and is surrounded by reedbeds and lush vegetation. It's an important site for breeding birds such as snipe and little egrets, so try to visit around springtime for good birdwatching opportunities, being sure to make use of the public viewing hide. A short step from Vale Pond, you can even find a circular stone burial chamber, which lies behind the Sandy Hook housing estate, on the edge of L'Islet. It can appear rather insignificant, but this reminder of Guernsey's ancient past can be intriguing to view.
Arts & Craft
While the natural sights around L'Islet often catch the eye, the community aspect of the village can also be great to discover. Towards the southern end of the village, you might happen to stumble across the Salem Chapel building. This small structure is a former church, now home to Sula Framing and Gallery. The gallery is open free of charge to visitors, and houses a diverse collection of original artworks, often depicting scenes of Guernsey.
There is work from both local and international artists, which you can view at your leisure. A visit on the right day can provide you with a chance to take part in workshops where you can view the artists at work. You can also expect to see some beautiful craft items, knit-wear and jewellery, making it an excellent place to visit, especially on a wet day.
If you're feeling peckish, why not combine a visit to L'Islet by stopping by the local fish and chip shop – L'Islet Chip Inn. Quality fish and chips awaits you here, which is the perfect way to finish your trip to the seaside. L'Islet is also just a short distance from Oatlands Village, which is one of the most popular visitor destinations in Guernsey. Within this small collection of buildings, there are craft shops, a jeweller's, a chocolatier and a restaurant, making it ideal for a day trip. You can even entertain yourself with their mini-golf course, while children can enjoy go-karting, trampolining and the wonders of a large play area.
L'Islet is certainly not a village to overlook, offering a range of engaging activities, while also sitting on the doorstep to some fantastic natural scenery.
Also find out what delicious cuisine Guernsey has to offer! Read more in the following article: Discover The Mouthwatering Cuisine of Guernsey