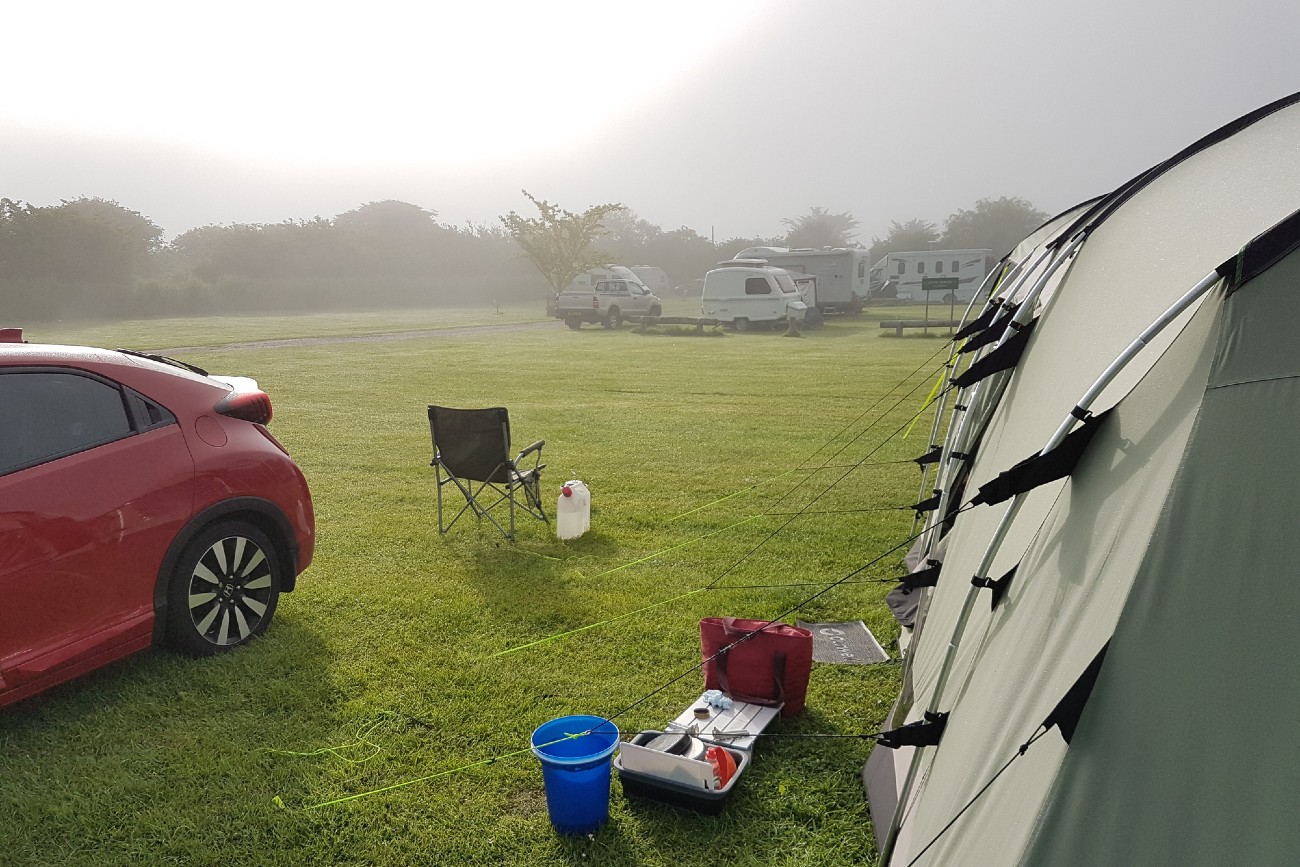 As the largest of the Channel Islands, Jersey is a prime location for outdoor adventures, with scenic countryside combined with some great stretches of coastline which are ideal for exploring. While there are many options for accommodation on the island, camping can be one of the best if you really want to immerse yourself in the environment. And as Jersey is the most southerly part of the British Isles, its warm summer temperatures and general good weather help to make camping conditions very comfortable.
If you're looking for a camping adventure in Jersey, there are several options for you to consider, including family-friendly campsites where you can pitch your own tent or slightly more homely glamping pods. Whatever you are looking for, the following options might peak your interest.
Rozel Camping Park
First up is what is probably the most popular campsite on the island. Rozel Camping park is a family-run campsite located in the north-east of Jersey, in the parish of St. Martin. The campsite is situated right on the coast and this gives it some impressive views out across the ocean towards France. This alone makes it a fabulous place to be – what better way to start your morning than waking up to a sunrise over the Jersey coastline. This was certainly one of my favourite parts during my time here.
Another benefit to staying here is that Rozel Camping Park is run to a very high standard, as proven by its five gold pennants awarded by the AA. The facilities there are excellent, with great washing up areas, toilets and shower blocks. It even has a heated outdoor swimming pool, which gives it a real holiday feel. If you're visiting with children, you won't have to worry about keeping them entertained either, as the campsite also has a television room, a games room and a mini golf course.
The camping areas themselves are set across a few fields, surrounded by lovely trees and hedges. You can pitch your own tent, or make use of pre-erected tents for more convenience.
Durrell Wildlife Campsite
If your idea of camping involves a proper bed and a roof over your head, as well as waking up to the sounds of lemurs chattering to each other in the background, then a glamping trip to Durrell Wildlife Campsite might well be perfect. Located at Jersey Zoo in the north of the island, this really is an experience unlike any other. I was a little worried the animals would keep me awake at night but they seemed to settle down after dark, only getting noisy in the morning. Certainly no need for an alarm clock here!
The campsite is made up of a number of private pods, each one fully equipped with a washroom, cooking facilities and a nice little outdoor seating area. In terms of comfort, you're unlikely to find a more pleasant camping experience anywhere else.
The pods can sleep up to two adults and two children, making it a great choice for a family trip, with the animals sure to be a constant source of delight for kids. As free entry to the zoo is included in your booking, this only makes it better.
Glamping
Statue of Gerald Durrell at the zoo in Jersey
The Palms Campsite
Previously known as Daisy Cottage Campsite, The Palms Campsite is the only campsite in Jersey located in the west on the island. It is situated in the parish of St. Ouen, close to Grève de Lecq Beach, which certainly makes it an attractive place to visit. The site itself is quite small but it puts a strong emphasis on providing a peaceful, quiet environment, meaning it is a very tranquil place. On top of this, the Palms Campsite also offers on-site therapy sessions and massages. Although not free, the prices are reasonable and the hot stone massage I tried was certainly worth it.
If you want to reconnect with nature and get away from an urban environment, a visit here is perfect. You can pitch your own tent and make use of the excellent facilities, which include a laundry area, shower block, toilets and a nice little cafe. The campsite is also pet-friendly, so you can bring your furry friend along with you.
Learn more about all the beautiful spots Jersey has to offer. Find out more in this article: St. Ouen's Village – A Gem In Jersey's North-West