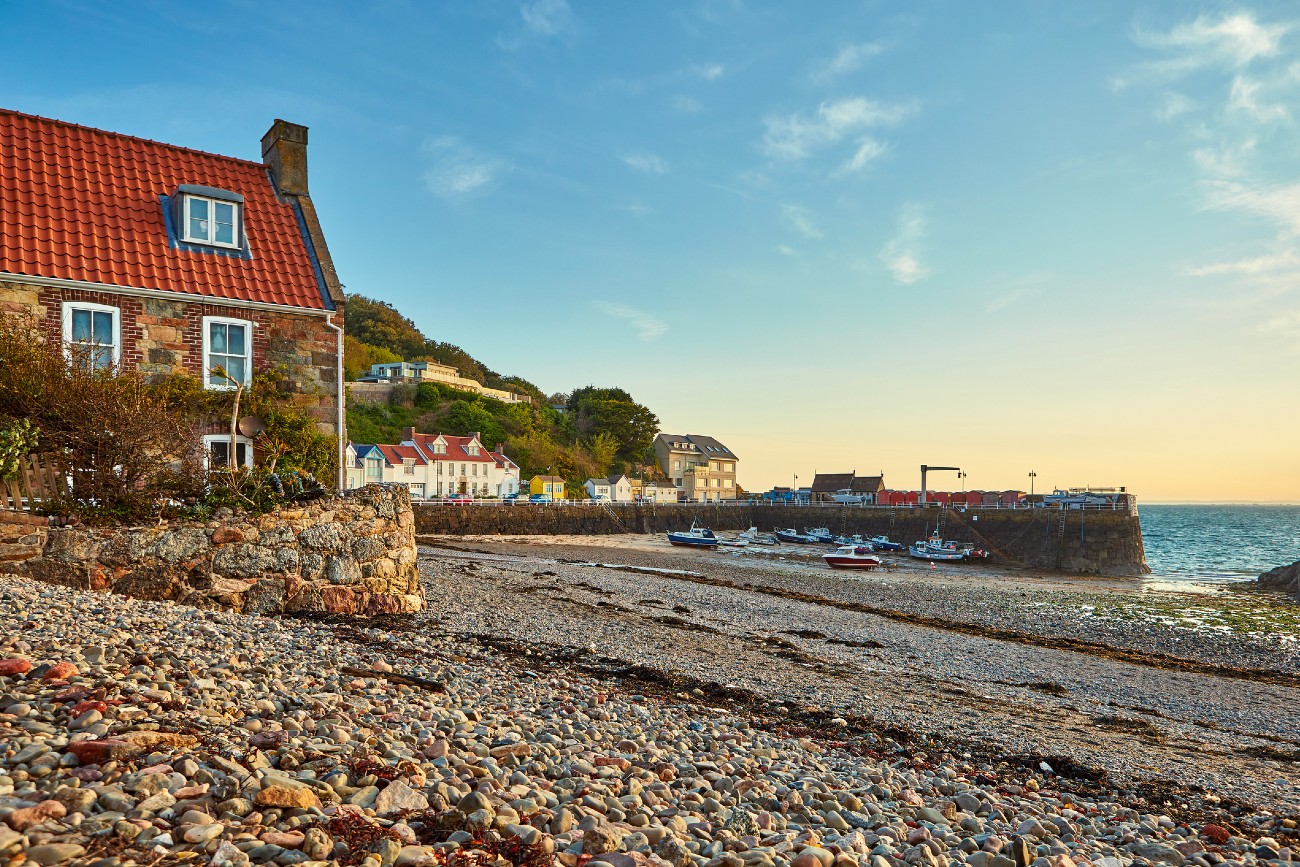 Nestled in the scenic Jersey countryside, St. Martin is a village in the north-east of the island. It is one of the largest settlements within the parish of Saint Martin, although it is relatively small in comparison to other places in Jersey.
Despite this, the village has a strong community feel to it and is certainly not lacking in local amenities, with a healthy selection of shops, churches and places to eat. Set within one of the least build-up parishes on the island, it is also a very picturesque place to visit.
The surrounding fields are important for potato farming but are also home to some great Jersey cattle herds – the island's famous breed.
Saint Martin parish forms much of Jersey's north-eastern corner, encompassing long stretches of wild coastline, amongst which there are many beautiful bays. It even boasts the most easterly point in the entire Channel Islands, where you can see all the way to the French coast when conditions are clear.
Interestingly, the parish is one of the last remaining strongholds of Jerriais – the traditional language of Jersey, with some of the locals having a very distinctive accent.
The Village Green
One of the best ways to get a feel for the village of St. Martin is to stop by the Village Tearoom. This charming tearoom and cafe is located near the centre of the village, adjacent to the village green. It is set behind the main road through the village. I found it a bit tricky to find it, however it is certainly worth it!
Its well-balanced menu offers some excellent home-made foods, suitable both for breakfast, lunch or a late afternoon snack. I think it's the perfect place to go in particular if you're a fan of cakes, as there are some delicious examples to choose from. The tearoom opens from 08:00 until 16:00, and there is a large car park nearby.
With the Village Tearoom overlooking the wonderful village green, it's a good place to visit as a family too, as children can be safely let loose to burn off some energy. If you're lucky to visit on a warm, sunny day, the village green can be a great place for a picnic or a stroll. Although empty for most of the year, it hosts a range of events such as charity boot sales.
From the village green, a stroll eastwards through the town will quickly lead you to St. Martin's Parish Church. As one of the twelve ancient parish churches of Jersey, St. Martin's Parish Church dates back as early as 1042 and has a red tile roof and tall spire. Notably, the spire has been struck by lightning on two occasions, with the first incident – in 1616 – causing it to break in two.
It was re-built, before being struck again in 1837. The church is a lovely place to visit and has extensive grounds, which can be interesting to walk amongst.
Stepping Up To The Crease
On the western fringes of St. Martin village, you can find Farmers Cricket Club Ground. This is home to the island's national cricket team, as well as the local club. Opened in 2005 by Geoffrey Boycott and Mike Gatting, it has since been voted as one of the top ten club cricket grounds in the UK. Not a bad accolade, considering it started out life as a potato field.
If you're keen on walking, birdwatching or just nature in general, the village of St. Martin is situated just outside one of Jersey's hidden natural gems – St. Catherine's Woods. This large area of native woodland remains a secret to many tourists, as well as some locals, meaning it is the perfect place to get away from it all and spend some time in the countryside.
You can find the entrance to the woods just to the north of the village, where a path disappears into the forest and leads you through ancient oaks, sun-dappled clearings and babbling streams.
Spring and early summer can be the best times to explore St. Catherine's Woods, when wildflowers bloom and songbirds serenade you from amongst the branches. You can follow the path all the way to the coast by St. Catherine's Lifeboat Station, which can make it a round-walk of several miles. There is a small bay here that can be lovely to spend time on, and the island's coast path leads off in both directions.
St. Martin village is therefore an excellent small-town destination in Jersey, offering several points of interest that are rather unique. Ideal for a day trip, its quiet, friendly atmosphere makes it a wonderful spot.
Learn more about other interesting places Jersey has to offer: Orchid Fields – La Mielle De Morville